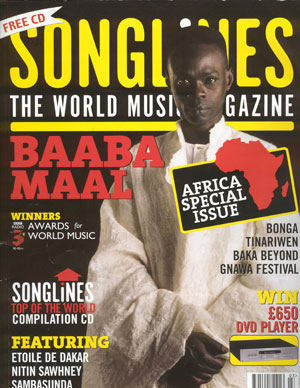 Songlines Magazine - I depend on this magazine for putting me in touch with great music. It carries the largest and most reliable collection of world music reviews. The approach is unprejudiced with no "holier than thou" definitions of folk or world music (well, occasionally that pops up in the letters and comments pages).
They review everything from the hard edged rock music of Fun>Da>Mental and Asian Dub Foundation to the sweet strains of the Taffetas and Cesaria Evora. Every issue comes with a CD and I have yet to be disappointed by the music on the disks. There is always something new and exciting to hear.
Finding it on the newsstands in Madison is a chancy affair. Barnes and Noble on the west side seems to have the largest stock. Borders carries it as well, but the copies at the east side branch seem to sell out quickly. Be sure to check through the copies because they have sometimes been stripped of the CD or the disc has fallen out of the slip cover. Also available by subscription through www.songlines.co.uk
Local Stores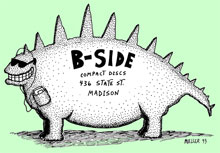 B Side The smallest store in Madison has the widest selection of eclectic music. It is tough to maneuver in here with a backpack. Located on State Street halfway between the State Capitol and the UW campus.
Web Stores

CD Roots - run by Cliff Furnald, this site has become invaluable for international music fans in the States. The idiotic policies of the Bush administration have made it very difficult to obtain CDs from many foreign countries. Cliff is well established and makes a wide variety of difficult to obtain music available to US buyers. Prices are very reasonable, especially as the buying power of the dollar overseas has plummeted. Many CDs have several listenable tracks. Also see his other site RootsWorld for reviews, interviews and other cool stuff.
One World South African Music Cyberstore - a terrific source for the music of Southern Africa. The prices are in South African Rand and look shocking at first glance but the exchange rate makes purchases reasonable (like R99.99, which is US $14.57 as of today). Service is excellent, although shipping from another continent at the far end of the other hemisphere can be slow. They carry dozens of great titles difficult to find in the US, like Miriam Makeba's early CDs from the 1950s with the Skylarks, Oliver Mtukudzi's wonderful guitar and voice solo CD "Ndega Zvangu", and lots of Kwaito, Township Jive and Jazz, both old and new. Many CDs have 3 listenable tracks. A great resource.

Kalan Music - a Turkish label featuring, naturally, music of Turkey. Prices are excellent, usually US $9.00 for individual CDs. Service is awesome. I have received several orders in 5-6 days, much faster and more reliable than any of the giant cyberstores. Listenable samples are available for all cuts on most CDs, allowing you to get the true flavor of the whole disk. Kalan has one of my all-time favorite CDs, a classical/Turkish crossover called "Minyaturler" by Cihat Askin and Mehru Ensari. Shipping has recently become problematic for US buyers who are required to submit Social Security Numbers because of some idiotic Homeland Security requirement. Shipping cost also doubled. Try CD Roots if you have trouble.

Cyber Music Surplus - the garage sale music site. Allegro uses this site to close out inventory at reduced rates. It can be difficult to find good music here until you master the search function. Use the search options to limit the display to your areas of interest and you'll find many great bargains. Service is excellent.
Other tips
World music is astonishingly varied. It is best to listen to something before you buy. Amazon has sites in Britain, France and Germany that have many international CDs up for listening that don't appear on Amazon.com, the US site. The sites are Amazon Britain, Amazon France and Amazon Germany. The layout and functionality of the German and French sites are the same as the English sites, so buying from them is relatively easy even if you don't know the language. The exchange rate to the dollar is horrible, so check xe.com to find out how much things really cost before you buy